Richard and I are feeling replete and content, following a long-awaited visit this afternoon to the amazing creative space Thought Foundation which opened in Birtley today.
Located in a cavernous space under the Cedrec offices in Clarity House on the Durham Road, this new Community Interest Company is packed full of interest.
Entering through a door at the side of the building, visitors arrive in the huge exhibition area, which currently houses the inaugural Thoughtful Planet exhibition. It brings today different art forms and artists' responses to environmental issues and the fragility of our planet. The exhibition even boasts a work from a Turner prize nominee! It was a pleasure to take time out of our day and consider the different media and beauty of the artworks from different perspectives.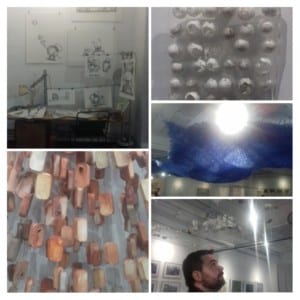 Next stop is the Think Shop, which sells eclectic, sustainable and thoughtful products. For Richard's forthcoming birthday, I treated him to a Viking t-shirt. Produced by local business Joined In Life, they are made from recycled fabrics and screen printed in an environmentally-friendly process with water-based inks. A proportion of the sale goes to global charity Mary's Meals, which provides a daily meal in a place of learning in order to attract chronically hungry children into the classroom. There, they receive an education that can, in the future, be their ladder out of poverty. From the £20 ticket price on Richard's new t-shirt, a child living somewhere in poverty will now eat well for a week.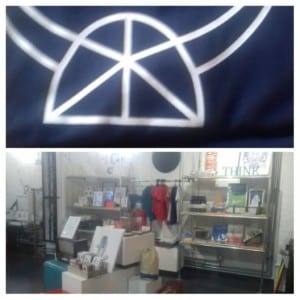 The Imagination Station is a fun place to let the children entertain themselves creatively while you watch on with a cuppa. The area is kept nicely safe and cordoned off for children to play by an extravagant waltzer seat, rescued from the fairground and lovingly restored by directors Leanne and Gareth. There is a fun switch wall, umbrellas with electronic rain, toys and all sorts of ideas to get your child imagining and creating.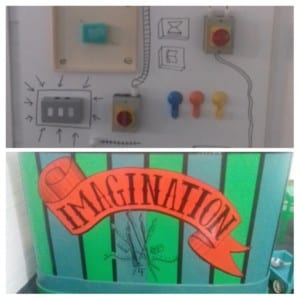 To the side is a good-sized room called Brain Space, which can be hired out as a workshop space to teach and learn new skills.
What we've been most excited about is the Brain Food Kitchen- and it didn't disappoint. When Richard saw the breakfast option of yoghurt, banana, walnuts and honey (4 of his favourite things) he didn't read any further down the menu, and plumped for that (£2.50). I was torn between the home cooked gammon and English mustard salad and the homemade olive tapenade, humus, avocado, seeds and spinach leaves (both £5), but chose the former. We had some delicious fresh orange juice and some amazing home made tray bakes for pudding. My cup of (local) tea was served in a pretty cup, with a quaint mini milk bottle and a honey served in a hand-thrown pot made by a local artist. The presentation was beautiful and the quality and taste was top-notch. Delicious!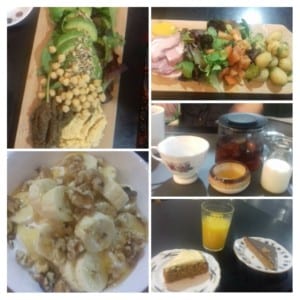 The eclectic set up means you can nab the church pews for a more intimate lunch date, the bar area for a quiet and relaxing treat alone browsing some art books or the long tables that can be separated or joined as you please. We very much enjoyed the company of Anna-Lisa Mills and Sharon Lashley of Climate Action North East and others who ebbed and flowed for a chat in the easy and friendly atmosphere. Sharon even let me snap a photo of her lunch, which is the option I'll be choosing on my next visit.
It was really delightful visit. The company was great, the food was bursting with flavour, the atmosphere was welcoming and the surroundings were full of interest and engagement at every turn. This place is well worth a visit. And if you're pondering who to go with..? Please pick me! I can't wait for an excuse to go back!
Click here to find out what we think about other local CIC, Gateway Studio Project.
Talbot Jones Risk Solutions is an insurance brokerage specialising in Charity and SME insurance. Get in touch if you'd value a free insurance review, advice or quotation and we'll be more than happy to help.